Willow Springs:
An Oasis in Antelope Valley History
Antelope Valley Press, May 25, 1988
©1988 Antelope Valley Newspapers
Story by Karla Tipton
It wasn't always so quiet in the community eight miles west of Rosamond. In its time, the early watering hole played host to Indians, wild horses, explorers, stagecoaches, struggling desert crossers and, the story goes, to horse thieves on the run.
Manly Road, which runs down the center of the town of Willow Springs, is primarily shared by the property's owners, some tenants and several friendly canines.
As Willow Springs was in a lull a hundred years ago, so it is now.
The wind that whispers through the tiny oasis community eight miles west of Rosamond encounters mostly solitude. Owner Robert Nelson, with the help of two sons, operates his small Reserve Systems manufacturing business from there. But compared to the bustle between 1864-72 when it was a stop on the Los Angeles-Havilah stagecoach line and after 1900, when miner/pioneer/businessman Ezra Hamilton built it into a lively resort town, the Willow Springs of today seems to be more a place that must go out to find the world, rather than be sought out by it. It's drier there now, too.
It hadn't always been that way.
Historic watering hole Willow Springs, one of the most historic watering holes in the Mojave Desert, is one of the three oases in Antelope Valley, an area of more than 2,000 square miles.
Before the white man came, there wasn't much vegetation around the area – with the exception of the desert willows which give it its name.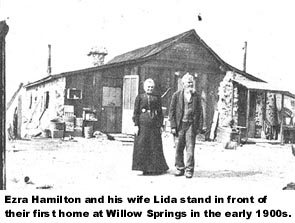 But there was water, and that was enough to draw the migratory Indians of the area, as well as herds of wild horses and antelope.
As early as 1776, European born travelers began taking advantage of the watering hole on their long journeys through the desert.
One of two plaques marking Willow Springs as California Historic Monument No. 130 states that in 1776, Father Francesco Garces stopped at the springs on his return wanderings from the San Joaquin Valley, and in 1844, American general, explorer and "The Pathfinder," John C. Fremont, rested under the willows on one of his trips west.
Other visitors included the Jayhawk Party, who struggled into the oasis in 1850, after their grueling trip through Death Valley.
And according to Mary Nelson, who with her husband has lived there since 1947, Willow Springs' provided water for horse thieves escaping with their stolen goods along Horse Thief Trail.
"Supposedly they rode down to San Fernando, came up through Bouquet Canyon and then galloped through here because there was water. Then they escaped north."
"Kids love that part of the story," she said. "And when you ask them what do you think they were going to do with the horses, there's always some kid who answers, 'Eat them!'"
The Nelsons even wrote to Kern County in a effort to get the name of "Manly Road" changed to "Horse Thief Trail," but were turned down "because they said there was no historical evidence to prove that," she said.
Stagecoach stop More than horse thieves used that particular route through Willow Springs.
From 1860 on, it became a stage and freight station and general watering place used by Remi Nadeau in freighting silver from Cerro Gordo. Nadeau, the Searles Brothers, Borax Smith and others used the station while developing the Death Valley borax deposits and the Inyo and Kern River mining operation. They followed Horse Thief Trail, which later became known as Walker Trail.
For eight years after 1864, Willow Springs became a station on the Los Angeles-Havilah Stage Lines. From 1872-76, Nelson Ward, who owned part of the land, kept the stage station operating until the railroad made stagecoaches obsolete.
Although the old station has been in ruins for more than 100 years, a small section of its adobe walls still stands.
The whole of Willow Springs passed from public domain to private when it - along with plenty of other land throughout the Southwest – was bought up by Gen. Edward Fitzgerald Beale. During his career, Beale founded Fort Tejon, and is also credited with establishing the Camel Corps at the instigation of U.S. Secretary of War Jefferson Davis (later president of the Confederate States) who believed they'd be ideal pack animals in the American desert.
Beale also set up the Indian Reservation System when he served as superintendent of Indian Affairs for California and New Mexico. This move enabled him to legally kick off all the Indians from his vast lands. During the period of his military service, Beale dispossessed all claimants from all the old Spanish and Mexican land grants of the area and purchased the land from the government at an average of 5 cents an acre. Included in the 300,000 acres he eventually owned were La Leibre, Castaic, Los Alamos, Agua Caliente and El Tejon.
Willow Springs, east of Rancho La Liebre, became part of this estate when it was transferred to him by Abraham Lincoln in 1862.
Because of a battle for right of way between Beale and Southern Pacific, the railroad bypassed Willow Springs and took a more expensive and hazardous route through the mountains (resulting in the Tehachapi Loop) and then through Rosamond. The stage and freighting traffic ceased - and Willow Springs fell quiet. It wouldn't be until 1896, when Ezra Hamilton and his family moved to the area, that the watering hole became the center of attention once again.
Ezra Hamilton's resort town The once-thriving resort town that, in the early 1900s, could boast of a hotel large enough to house 30 people, a restaurant, a post office, a trading post, five stone reservoirs and a swimming pool, flush toilets, electricity, an entertainment center (with a drop curtain and 16 changes of scenery) and houses used exclusively for making ice and growing silkworms, is now home to just a few tenants who rent some of the old buildings.
In the property's roomy main, house - built relatively recently in the late 1930s, reside Robert and Mary Nelson, who have owned the property since 1947.
Over the years they've collected history on Willow Springs, and were friends with the handful of Shoshone Indians who lived in the area until about 15 years ago when the last one died. They were also acquainted with Ezra Hamilton's son Fred.
Fred's recollections provided the background for a 1950 list Robert Nelson wrote up of the buildings at Willow Springs and the years they were built, mostly between 1900 and 1904.
"We got that list in a peculiar way," said Robert. "Fred was still alive and living about a mile down the road. He was in a talkative mood for a change, and he told us from memory when the buildings were built. And as he told us, I made that list."
Hamilton bought the 160 acres of Willow Springs in 1896 with $3,500 - a portion of the money he had made from mining gold out of the Lida Mine on Hamilton Hill (now known as Tropico), five miles west of Rosamond. It had taken him three years to make the gold strike, but when he did, he took $4,500 out of 21 tons of dirt. Over six months he took out $30,000 worth of gold then sold the mine for $100,000.
Hamilton started building the resort town, made entirely of the area's native rock, because "I considered this valley was one of the healthiest in the state," he wrote in a 1913 letter to Miss Minta Thomason in Lancaster.
"We have all the conditions for health," he continued. "The altitude is about right. Twenty-five hundred feet above sea level. Surrounded by mountains. Makes no difference which way the wind blows, it blows off the mountains, and mountains are healthy. There is no decayed vegetation to cause malaria. Soil is good. Weather is good. More sunny days than anywhere else. Comparatively no fog.
"Every condition for health."
In the Kern-Antelope Historical Society publication "Here Roamed the Antelope," early Antelope Valley resident C.J. Gerblick described Willow Springs as "a gorgeous desert oasis. I lack the words to describe its beauty. There were several running springs, beautiful trees of many varieties, alfalfa watermelons, grapes, peanuts and various other fruits.
"Mr. Hamilton was a stone mason by trade and a genius in the line of development. "Nearly everyone within a radius of 10 miles would meet at Willow Springs on a Sunday afternoon, weather permitting. There they had a beautiful swimming pool, constantly fed by a cold running spring, a big grove of shade trees, and tables and chairs for all. Mr. Hamilton also built an auditorium where many traveling road shows would stop and give entertaining performances. Church services were also held in this auditorium."
But Hamilton wanted to make his resort into a real town. And real towns must have a school.
As it turned out, the school begun at Willow Springs in 1904 became the first in the Willow Springs school district.
According to Mary Nelson, in order to get his school, "He hired a teacher who had five kids so he'd have enough children for the school to qualify."
"It, too, was held in the Willow Springs auditorium," wrote Gerblick. "We had ordinary kitchen tables and chairs in place of school desks and one teacher for all eight grades."
In 1905, Hamilton built a new school a short distance northeast of Willow Springs. It was abandoned when several school districts in the area merged to form the Southern Kern Unified School District.
Now just a remnant of it still stands. Hamilton also created some makeshift greenhouses, said Mary. As a result, "the Hamiltons were the first ones to get their tomatoes to Los Angeles, sometimes as early as March."
Willow Springs also had the first automobile garage in the area. "They had to have a gas pump and garage because old Ezra Hamilton was the first one to have a car in the Valley," said Mary.
The resort thrived until Hamilton's death in 1915. It then passed on to his children, who sold it. There were always people living there, but it had a variety of owners until the early '30s, when the Willow Springs Co., which carried on local mining operations, purchased it for their headquarters.
The Nelsons, stockholders in the company, moved there in 1947.
The '40s and '50s "When we moved here, it was the coldest winter I can ever remember," said Mary. "I was thinking this was the end of the earth anyway. At night, you could just see a few lights here and there."
Over the years, the Nelsons have found several Indian artifacts on the property, including ceremonial bowls and "money" made of shell, as well as Indian burial sites.
In 1952, the Tehachapi earthquake destroyed some of the old buildings.
But the town stayed alive. There were always some tenants and the restaurant, which was leased out to several people over the years.
"One of the people in Rosamond ran the restaurant as a bar and hamburger place," she recalled. "He made a fortune selling beer for 15 cents a bottle. In one month he made $3,000. Of course, it was the only restaurant out here."
During the first experimental flights of the Bell X-1 at Edwards Air Force Base, many of the flight crew rented rooms at Willow Springs.
"We had all the X-1 crew here," said Mary. "This was considered the prime place to rent, because there were trees and a swimming pool."
Included among the residents were Chalmers "Slick" Goodlin, pilot of the X-1 before Chuck Yeager; Dick Frost, project manager of the X-1 test team, and many others.
Crusty female pilot Pancho Barnes, whose Happy Bottom Riding Club on Edwards Air Force Base was immortalized in "The Right Stuff," was also a frequent visitor.
The restaurant "was the watering hole for everyone," said Mary. "You could go down and hear country music and see people sitting at the bar and the babies sleeping on the benches which was considered entirely proper, because it was a restaurant, too."
In the '50s, the restaurant was operated by Lawrence and Jean Duntley, son and daughter-in-law of Antelope Valley pioneer Rawley Duntley.
The restaurant, which served Basque food, "was full every single night," said Mary. "People would come all the way from Ventura to go there.
"It lost some of its authenticity though. The Health Department didn't like the cowhide seats on the bar stools, so they made them take them off and put on vinyl."
After the restaurant closed, the Nelsons held several parties in the old building, until recently, when liability insurance costs got too high.
Since then, Willow Springs has again fallen quiet.
At least until July.
That's when the Nelsons' daughter comes home to get married. "All our eight kids will be here for this one," said Mary. "There's supposed to be a hundred-some people here.
"It's going to be a real good party."